We are very proud of our team
Thank you for taking the time to learn more about Austin Ironworks and its ironworkers from Kansas City, MO. In business for more than 50 years, we put over 200 years of combined experience to work for you. Our team is passionate about the quality of our work, and we have five employees with a least a quarter-century of experience each.
Following the guidance of brothers and co-owners Steve and David Austin, Austin Iron Works has maintained its prominence in custom design metalwork. Our wealth of knowledge and expertise make us an industry leader. Creating form, as well as function, with a clarity of vision and uncompromising attention to detail. We take elemental materials of the earth and give them new meaning, reshaping them to meet the demands of the job at hand. Check out our specialties.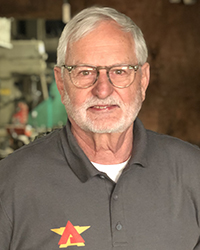 Steve Austin
Owner/Partner/Blacksmith/Autocad
46 years

David Austin
Owner/Partner/Electronics
46 years
Tracy Payne
Office Manager
28 years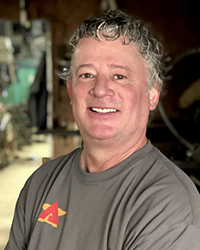 Jason Ruhnke
Foreman/Autocad
28 years
Left to Right: Jason Ruhnke, Foreman/Autocad, Employed 28 Years | Pedro Escalond, Fabricator/Installer, Employed 1 Year | Ed McKinney, Fabricator, Employed 7 Years, 42 Years Experience | Mike Keller, Employed 1 Year, 43 Years Experience | Kevin Bales, Lead Fabricator, Employed 20 Years | Justin Bell, Blacksmith, Employed 11 Years | Jim Courtney, Painter, Employed 18 Years